Universal Class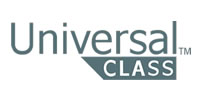 Universal Class
Continue your education online and fulfil all your learning goals. Hundreds of real, high quality, online education courses in topics from exercise and fitness to web design and business.
CONTENT DETAILS
Real Courses.
Universal Class provides high quality, online courses to help you learn the skills needed to achieve your goals. Our courses are not just tutorials; they are real. They include lessons, exams, assignments, discussion boards and an instructor to help you master the learning outcomes.
Assessment of Your Progress.
Verify your learning progress with the assessment of assignments and exams. Receive actual grades and feedback regarding your performance. Build your online portfolio and share your achievements with others.
Go At Your Own Pace.
All courses are self-paced. This means you can learn when you want on your own time. You do not need to be online at a specific date or time.
Areas of study include:
Accounting
Alternative Medicine
Arts, Crafts & Hobbies
Business
Career Training
Computer Training
Entrepreneurship
Finance
General Education
Health & Medicine
History
Homeschooling
How to / do it yourself
Language Arts
Law/Legal/Criminal
Mathematics
Medical Billing
Office Skills
Parenting & Family
Personal Development
Pet & Animal Care
Psychology
Real Estate
Science
Social Work
Special Education
Spiritual Studies
Teacher Resources
Test Preparation
Web Development
Writing Skills
FEATURES
Access to over 500 courses
Completely online
Self-Paced
Instructor Support
Continuing Education Units (CEUs) - Universal Class is an International Association for Continuing Education and Training (IACET) Authorized Provider
CEU Certificates documenting course completion (online, printable and downloadable PDFs)
6 months to complete a course
24/7 availability
Start anytime
PC & Mac Compatible
Android & iOS friendly
Download a printable tipsheet.
Connect with Universal Class.
Enter your library card number and library password when prompted.
When accessing Universal Class for the first time, you will be required to create a user account. Click Register Now, then enter your library card number. You will be required to fill in a form and create a password. Please remember this password as you will be required to use it next time you login. Click continue.
Once you've logged in, you will see the site navigation is along the top (Home, Course Catalogue and My Classes).
Go to Course Catalogue to browse the areas of study before selecting a course to enrol into. For example, I may be interested in ancient civilisations and would therefore select the area of study entitled History before enrolling into the Ancient Civilizations 101 class.
When selected class displays, you are able to view the content of the course and each lesson. Continuing Education credits and learning outcome information is also available.
At the top of the page click Join Course and then Confirm Course. You are then taken back to My Classes section of the site which will display all courses you are enrolled in. From here you can Enter the Course you've just enrolled in or continue with a course.
---