Universal Class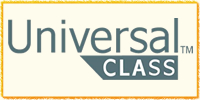 Universal Class
The place to continue your education online and fulfill all your lifelong learning goals! Online education courses in a wide range of topics, including: Exercise and Fitness, Entrepreneurship, Arts and Music, Home and Garden, Cooking, Computers & Technology, and more!
CONTENT DETAILS
UniversalClass™ provides online continuing education courses to schools, libraries, companies, educators, and individuals throughout the world. It aims to advance intellectual exchange in teaching, research, and service with its technology and belief that lifelong learning should be affordable to all people of all cultures. UniversalClass provides a growing course catalogue of over 500 online classes and is committed to providing only the most affordable and highest quality continuing education.
With streaming video, website avatars, insightful instructional content, helpful tutors, and a social networking experience, UniversalClass offers an engaging and measurable learning experience that helps students master and document their educational goals. It is also an accredited Authorized Provider by the International Association for Continuing Education and Training (IACET).
UniversalClass virtual classrooms are extremely easy to use and allows you to receive continual feedback from instructors regarding your progress in a course. All student work is tracked in our online courses. UniversalClass can verify student's progress through detailed logs. Additionally, successful students may earn a CEU Certificate of Course Completion that documents their final grade, along with other assessment information. This certificate is available in hard copy form and can be electronically registered and verified on our service via a unique serial number.
Areas of study include:
Accounting
Alternative Medicine
Arts, Crafts & Hobbies
Business
Career Training
Computer Training
Entrepreneurship
Finance
General Education
Health & Medicine
History
Homeschooling
How to / do it yourself
Language Arts
Law/Legal/Criminal
Mathematics
Medical Billing
Office Skills
Parenting & Family
Personal Care
Pet & Animal Care
Pscyhology
Real Estate
Science
Self-Help
Social Work
Special Education
Spiritual Studies
Teacher Resources
Test Preparation
Web Development
Writing Skills
FEATURES
Completely online
Self-Paced
Instructor Support
IACET CEUs
6 months to complete a course
24/7 availability
Start Anytime
PC & Mac Compatible
Android & iOS friendly
When accessing UniversalClass for the first time, you will be required to create a user account. An automatic verification email is generated to confirm your email account. When the form is filled out, click continue.
Once you've logged in, you will see the site navigation is along the top (Home, Course Catalog and My Classes).
Go to Course Catalogue to browse the areas of study before selecting a course to enrol into. For example, I may be interested in ancient civilisations and would therefore select the area of study entitled History before enrolling into the Ancient Civilizations 101 class.
When selected class displays, you are able to view the content of the course and each lesson. Continuing Education credits and learning outcomes information is also available.
At the top of the page click Join Course and then Confirm Course. You are then taken back to My Classes section of the site which will display all courses you are enrolled in. From here you can Enter the Course you've just enrolled in or continue with a course.
---
Interested in Dog Psychology?