Niche Academy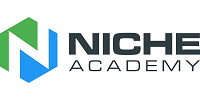 Niche Academy
Simple and clear tutorials that teach you how to use library eResources like eBooks. Also learn about internet and computing basics.
With Niche Academy's specialised tutorials learn to use Instagram or Facebook like a pro, or learn Microsoft Word or Excel. There are even tutorials that teach you how to use library resources such as Borrowbox.
FEATURES:
Dozens of clear and concise video tutorials.
Clear written instructions with images included in each tutorial.
Quizzes at completion to help you solidify what you have learned.
Connect with Niche Academy.
Choose a tutorial and work through it at your own pace.
If you would like to complete the Quizzes you will need to create an account (however you do not need to do this to view the tutorials):

Click on the 'person' icon in the top corner of the screen.
Click Create an Account.
---