Mango Languages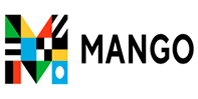 Mango Languages
Mango Languages helps you to learn new languages and connect with new cultures. Interactive, simple and fun to use. Languages included: English, Spanish, French, Japanese, Portuguese, German, Mandarin Chinese, Greek, Italian, Russian and many more.
CONTENT DETAILS
Mango offers access to more than 70 foreign language courses and 20 English courses. These are taught in your native language.
You can also learn through foreign film. Access a variety of specialty mini courses, like Pirate, Medical Spanish and Romance courses.
Mango is available at the library, from home, or on-the-go with apps for Apple, Android, and Kindle.
Each lesson combines real life situations and audio. Native speakers are used, as are simple, clear instructions. The courses focus on vocabulary, pronunciation, grammar, and culture.
FEATURES
Learn through conversations
Every lesson of Mango Conversations is taught through conversation. This gives you an edge in understanding your new language.
Challenge your critical thinking
With a focus on getting you to create new meaning on your own, Mango Conversations challenges you to combine what you've already learned to build something new.
Cultural Insights
Relevant culture notes are included in each lesson. Language lets you speak, but cultural understanding lets you connect with a new way of life.
Memory building exercises
Perfectly timed memory building exercises ensure you remember what you learn. Get something wrong? Don't worry, you'll come back to it later.
Pronunciation helpers
Popups help you with your pronunciation. Even the most difficult to pronounce words can be mastered with ease.
Goal-based learning
Part of becoming good at your new language is to meet communication tasks. Each chapter aligns your learning to a set of conversational and grammar goals.
Relevant learning material
Learn things you'll actually put to use in your new language. By learning language and culture through real situations, you're more prepared to hit the streets.
Interactive Audio
Didn't catch something? No problem! Listen to crystal clear audio for every word and phrase. Dial in that perfect accent in no time.
Understood and literal meanings
Learn both understood and literal meanings. For example, the literal meaning for 'How are you?' in Russian is 'How your things?'
*Download our Mango Languages tipsheet to get you started*
Connect with Mango Languages and enter your library card and PIN numbers when prompted.
On Mango Languages' landing page, create an account or use the Guest Access to start with.
Once logged in, you are able to search for a language, follow your language learning activities, request support or participate within one of the Mango labs.
The option to translate a language from/to English is also possible.
Learn more about Mango Languages by viewing How Mango Works.
---