Haynes Car Repair Manuals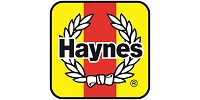 Haynes Car Repair Manuals
Hundreds of Haynes online car repair manuals at your fingertips. Anytime. Anywhere.
A library of manuals covering a vast range of car and motorcycle makes and models, with up-to-date content including common repairs, routine maintenance and servicing procedures.
FEATURES
Unlimited use of the world's favourite repair manuals
200 plus jobs in every manual
750 colour images in every manual
Connect with Haynes AllAccess and enter your Library barcode and PIN when prompted.
Simply choose between Car or Bike manuals, select your Make and Model and click search.
You will have the choice to view the online manual or look at the video tutorials (where available) on a range of common repairs.
Within the manual you will have the option to print sections.
---