Gale Primary Sources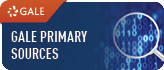 Gale Primary Sources
Explore over 400 years of newspaper content. Includes British Newspaper collections from centuries ago. Family history researchers will love this resource.
CONTENT DETAILS
Gale Primary Sources explores a range of historical newspaper and magazine collections. Search or browse across several newspaper collections. Get access to millions of digitised facsimile pages, giving you a window into the past.
Collections offered by Logan Libraries:
The Daily Mail Historical Archive: 1896-2004
Illustrated London News 1842-2003
19th Century US Newspapers
British Library Newspapers
FEATURES
Browse newspapers by title, date and by place of publication.
Full text searching with highlighted search terms.
Read newspapers as they were published, from quality scans in an image viewer with magnification and highlighting.
Easily access other newspapers for the same day.
---