Gale Interactive: Science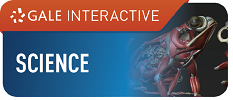 Gale Interactive: Science
A highly visual and interactive view of the most-studied science subjects.
CONTENT DETAILS
Gale Interactive: Science contains high quality science information paired with interactive 3D activities.
Zoom in. Out. Rotate 360 degrees. Imagine what it's like to face complex science concepts with more knowledge, less fear. Gale Interactive: Science accomplishes this and more by giving students from Year 6 to Year 12 the power to see science beyond static text.
With over 200 interactive sessions and 60 models to print with a 3D printer, learners are inspired to achieve the ultimate outcome—discovery.
Watch this introductory video.
FEATURES
Over 200 interactive sessions
60 models to print with a 3D printer
Perform virtual labs inside and outside the classroom
Take self-assessments to ensure comprehension
Educators can build lesson plans
Can be used for independent learning and front of class teaching.
SUBJECTS COVERED
Science & Technology
Biology
Chemistry
Earth Science
Analytical Chemistry
Elements and Atoms
Astronomy
Circulatory System
Physics
Geology
Infectious Disease
Microbiology
Musculoskeletal System
Organic Chemistry
Palaeontology
Reproductive System
Zoology
Connect with Gale Interactive: Science
Enter your library card number when prompted. (If your card number starts with a 15/ please do not enter the /).
There are four broad science subjects to choose from - Biology, Chemistry, Earth Science and Human Anatomy. Each subject has a number of categories to choose from.
Choose an activity and start exploring!
Note: Click on the translate icon to change the language of the article. You can also increase font size and listen to the article read out loud.
---