Clear Pronunciation 1 and 2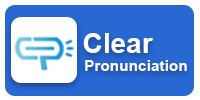 Clear Pronunciation 1 and 2
English learning program that helps learners recognise and pronounce the 43 sounds of English through audio, video and interactive activities. Students then learn to put the 43 sounds of English together into clear, intelligible speech.
Just as you can't get by doing a single press-up, you can't develop good pronunciation without lots and lots of practice. Clear Pronunciation enables learners to listen to and repeat audio models again and again, to do activities as many times as they like, and to make mistakes without embarrassment.
With Clear Pronunciation 1, you will work with each sound of the English language in isolation, in words, sentences and in texts.
Then in Clear Pronunciation 2 you will learn to put the sounds of English together in order to speak clearly and confidently.
FEATURES
Clear Pronunciation 1 covers the 43 sounds of English through audio, video and interactive activities.
Clear Pronunciation 2 covers consonant clusters, word stress, sentence stress, connected speech and intonation.
Watch tutorials and work through speaking exercises.
Australian, British and North American pronunciation models.
Many more accents in the "Sounds in action" sections.
Mobile-friendly.
Voice Recorder to record and listen to your own voice to help you learn.
Supported browsers - Chrome, Safari, Firefox, Edge.
Desktop
Laptop
iPad/Tablet
Mobile
To use Clear Pronunciation with your portable device simply access from the Library website. The online version is fully compatible with mobile devices - no need for apps or downloads.
---