Ancestry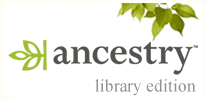 Ancestry
*
Ancestry Library is accessible free of charge in any Logan City Council Library. It includes US and UK Census collections. Much more is also available such as birth, marriage and death databases, and immigration records.
* In-library use only
PLEASE NOTE: Ancestry at home access ended on 31st December 2021. You can still access Ancestry from any of our 9 library branches after that date.
Answers await everyone—whether professional or hobbyist, expert or novice, genealogist or historian. Explore more than 7,000 available databases.
Ancestry delivers billions of records in census data, vital records, directories, immigration records, family histories, military records, court and legal documents, directories, photos, maps, and more. The collection covers North America, the United Kingdom, Europe, Australia and many more countries.
Popular databases available on Ancestry Library Edition include:
Australian electoral rolls 1856-1980
WA passenger lists, 1852-1930
New South Wales census, 1828 and 1841
New South Wales passenger lists, 1826-1922
Australian convict index, 1788-1868
UK census, 1841-1911
UK birth, marriage & death indexes, 1837-2005
UK National Probate Calendar, 1861-1941
British Army WW1 pension records
British phone books, 1880-1984
UK outgoing passenger lists, 1890-1960
UK incoming passenger lists, 1878-1960
London parish records
New Zealand electoral rolls, 1853-1981
US census, 1790-1040
Canada census, 1851-1911
FEATURES
Basic and advanced search functionalities
Message Boards to connect with others across the globe in search of family
Learning Center that will help you jumpstart your research, access to research aids, tips and tricks from Ancestry experts
Charts & Census Forms
Access the Ancestry Tipsheet.
Connect directly with Ancestry Library Edition or view the below instructional videos to get started.
1. Ancestry Library Edition: Home Page. The home page of Ancestry Library Edition offers basic search options and links to key collections.
2. Ancestry Library Edition: Card Catalogue.
The card catalogue lets you browse and search collections in Ancestry Library Edition.
3. Ancestry Library Edition: Advanced Search. Ancestry Library Edition advanced search offers extra search limits and fields.
4. Ancestry Library Edition: Interactive Viewer. The Interactive Viewer offers advanced tools to enhance your use of images found in Ancestry Library Edition.
5. Ancestry Library Edition: Image Viewer. Advanced and standard image viewers offer tools for viewing images in Ancestry Library Edition.
---