Story Box Library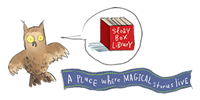 Story Box Library
Features engaging online Australian stories for primary school age children, read by some of Australia's finest storytellers. Cheeky, charming and a whole lot of fun!
CONTENT DETAILS
Story Box Library is an online 'reading room'. It's a place where the wonderful world of Australian Children's Literature is on permanent exhibit.
The main intention of Story Box Library is to deliver the precious experience that sharing a book entails.
Story Box Library connect children with literature through the complementary medium of film. They provide a vibrant, interactive experience via a diverse range of everyday Australian storytellers - sportspeople, musicians, grandparents, teenagers, comedians, actors, with varying accents and from different cultures - each sharing past and present book titles. The result is meaningful, entertaining readings that focus on both teller and tale.
Use it as a bedtime tale, a facilitator for discussion in the classroom, or a read aloud model - the choice is yours.
FEATURES
Story Box Library focuses solely on Australian stories and Australian voices.
Consists of over 100 stories.
Each story comes with tailored Classroom Notes that are specifically created for the Australian curriculum.
Story Box Library storytellers are chosen to ensure a broad range of voices, ages, gender and backgrounds to ensure diversity.
New stories are continously added, currently once per week during term time.
Stories have been selected with children of primary school age (5-12yrs) in mind and are broken down into the following categories:

Pre-school (3 - 5yrs)
Lower Primary (5 - 7yrs)
Middle Primary (8 - 10yrs)
Upper Primary (10 - 12yrs)
Connect with Story Box Library and enter your library card and PIN number when prompted.
Once at the landing page, enter your library card barcode and click login.
From the top navigation of the Story Box Library's front page, you are able to browse or search through the available stories.
When browsing the stories, you are able to filter by age group, theme, author/illustrator and/or storyteller.
Checkout the Story Box Library Song!
If you are experiencing any problem or wish to view the FAQs, access Story Box Library's Help section.
---