Macquarie Dictionary and Thesaurus Online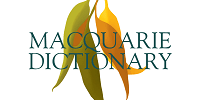 Macquarie Dictionary and Thesaurus Online
Access the most up to date Australian Dictionary and Thesaurus. Its in-depth coverage means you'll find the right word every time.
Full access to the Macquarie Dictionary and Thesaurus. Australia's national dictionary.
FEATURES
Easy, comprehensive search
Over 150,000 headwords and phrases
Over 234,000 definitions
Words and phrases from regional Australia
Encyclopedic entries
Etymologies of words and phrases
Over 25,000 audio pronunciations
Grammar and punctuation guides
Crossword resources
Hundreds of entries now have images
Aussie Word of the Week
Connect with Macquarie Dictionary and enter your library barcode and PIN when prompted.
Searching:
Select Dictionary, Thesaurus, or Both by clicking the appropriate button.
Enter the word you are looking for in the box.
Click the "Go" button or press the "Enter" key.
A screen will appear giving the entry for the top hit, along with the number of other hits and links. If you have searched in both the Dictionary and Thesaurus, the top hit is from the Dictionary.
If you are looking up a word which has an accent, key it into the the search panel without the accent. If the word is in the dictionary, it should appear in the results. For example, if you are looking up the word appliqué, just key in 'applique'.
If you are having trouble finding the word you're after, you can try the following:
Did you mean...?:
To turn on spelling help, tick the 'Did you mean?' box next to the search bar. You will only need to do this once as this feature will remain on until you log out.
This can help when you aren't sure how to spell a word. You can key in how you think the word might be spelt or even what it sounds like. For example, if you search for exma or exama you will get the hit eczema.
Wildcard search:
A question mark, ?  matches zero or more characters. For example, searching for bush? will find bush, bushel, bush lemon, etc.
A hash, #, matches exactly one character. For example, searching for wom#n will find woman and women.
Note: The Wildcard search works more effectively when the Did you mean...? search box is not ticked.
Crossword Resources:
Click Menu at the top left hand side of your screen, then click Language Resources > Crossword Resources.
Here you will find crossword, cryptic crossword and puzzle guides.
You will also find a Help Menu and other language resources under Menu at the top left hand side of your screen.
---