Find My Past
Now includes the 1921 Census of England and Wales.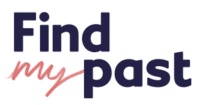 Find My Past
*
A family history website with access to over 2 billion historical records. Covers United States, Great Britain, Australia and New Zealand. Also includes Papua New Guinea and the Pacific Islands.
* In-library use only
CONTENT DETAILS
FindMyPast traces people's ancestry to uncover relatives at the most famous events in British history. These include the Battle of the Somme to Scott's expedition to the Antarctic. Invaluable for both family history beginners and genealogy experts alike. Records date back to 875 AD. The online collection has over 750 million records.
Search over 50 million records for Australia, New Zealand, Papua New Guinea and the Pacific Islands. Millions of records that you won't find available elsewhere online, including:
Over 700,000 cemetery records from across Australia
A vast collection of Australian and New Zealand electoral roll records
Over 15 million government records including government gazettes, police gazettes and blue books
Millions of religious records
Over 10 million directories and almanacs to aid your search
A large collection of Military records that cover the Boer war, WWI & WWII, Maori campaigns and more
Rare and unrivalled specialist records – perfect for adding fine detail to your ancestors' lives
FEATURES
The most complete census collection for England and Wales available online, with complete 1841 – 1921 census coverage, including the 1911 census in association with The National Archives and the 1921 census of England and Wales.
Complete birth, marriage and death indexes for England and Wales covering 1837 – 2005/6, plus birth, marriage and death indexes for the armed forces and for British nationals overseas or at sea.
A large online collection of parish baptisms, marriages and burials dating back to 1538, exclusively in partnership with the Federation of Family History Societies.
An extensive military record collection. Covered are the First and Second World Wars plus the Napoleonic, Crimean and Boer Wars.
Outbound long-distance passenger lists of ships departing from all UK ports between 1890 and 1960.
---