Create and publish your own collage web comic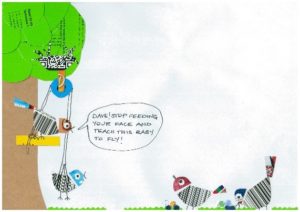 Created by:

Jenny I and the Logan Central Library Staff

Age Range:

Teens and Tweens

Difficulty Level:

Easy

Time Taken:

1 hour

Approximate Cost:

Free
Publishing on social media requires parent permission for under 13s
A 'collage web comic' blends handmade creativity with self-publishing. Almost anyone can do this project as there are no costs or drawing skills required.
Do you remember the picture book, 'The Very Hungry Caterpillar', from when you were a young child? Or the Clarice Bean stories by Lauren Child? Or Australian author, Jeannie Baker's books Window' and 'Belonging'? These author illustrators use collage to illustrate and tell stories.
Many collage artists have displays in art galleries. Artists also publish their work on Instagram and other social media platforms. Australian artist @petecromer specialises in collages of Australian animals. Collage sure is a popular and successful illustrating technique!
This tutorial will show you how to:
Make a simple collage character and setting without being able to draw
Produce a single pane comic, meme or piece of art
Publish straight to social media (optional)
You already have all the materials and imagination to do this today!
Hey - if @daily_otis can have 57K+ followers by posting the same cartoon cow pic everyday – we know you can do this!
Materials:
Cardboard packaging, magazines, brochures, junk mail
Glue
Scissors/Fancy Edged Scissors
Black pen or Sharpie
Try cutting and sticking some simple characters for practice.
Barcode Dogs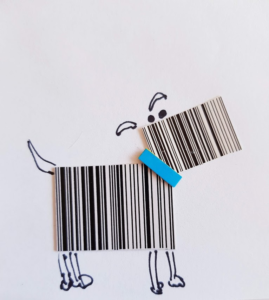 Trim down barcodes for head and body and cut a smaller rectangle for the collar.
Glue elements onto a piece of paper.
Quickly squiggle a tail, eyes, ears and legs with a black pen.
To create expression, add eyebrows for expression. Also, try adjusting the angle of the head and body barcodes and placement of the legs.
Package Robots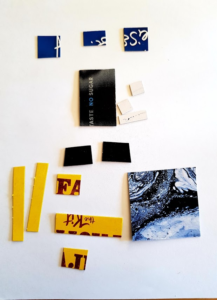 Cut shapes from packaging for body, head, arms, legs and feet.
Glue onto a piece of paper.
Eyes can be made from cutting out the letter 'O' on packaging or magazine pages, leftovers from a hole punch or small circle stickers.
Wavy lines and dots create antennae.
Creating these simple characters will help spark your imagination to possibilities. Go wild with creativity! What other critters and characters could you reveal through collage?
Rainbow-coloured penguins, robot chickens, struggling snowflakes, daring donuts? This list is truly endless.
Look at the shapes of cartoon characters' heads, bodies and clothes. Cut shapes out of packaging and piece together.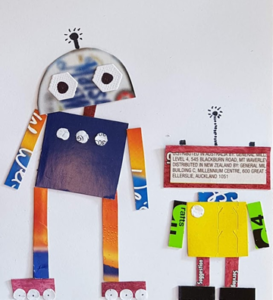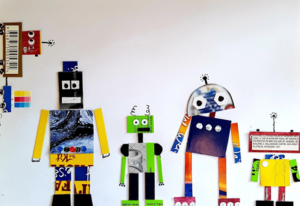 Next level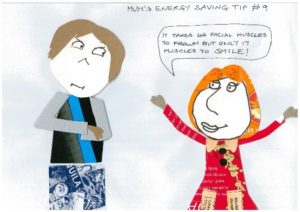 Think of a simple line landscape to place your characters in.
Keep adding more characters.
Look at your characters and try to think what they are thinking.
Write a funny word bubble or two with your black pen to add a voice for your characters. You could also add the word bubble when editing your photo. The other option is to let the collage picture tells its own story.
TIP: Stretch this idea into a series of comic panels or even a whole graphic novel.
If you are going to create a series of panels, keep your characters simple and easy to replicate.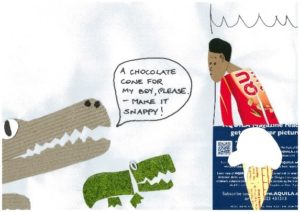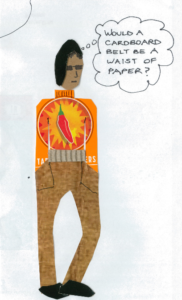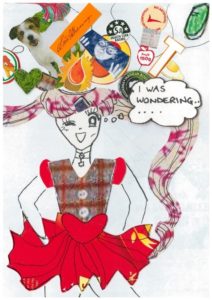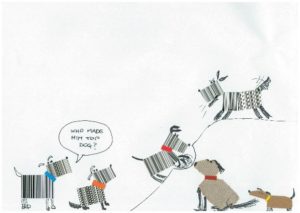 Become a self-published author/illustrator
Publishing on social media requires parent permission for under 13s
Create a whole new social media account for your collage characters on Instagram, Facebook, etc. (optional and only with your parent's permission if you are under 13 years old)
Place your collage web comic on a plain, flat background. Photograph it from above with your phone.
Edit the photo for quality and add even more creativity with frames and text, if you want to.
Post it to your preferred social media platform!
Keen to find out more or need more inspiration?
Request a copy of these books for project inspiration from the Logan Libraries' catalogue.

Request a copy of these fabulous craft books from the Logan Libraries' catalogue.

Online resources
Drill down into the 'how to' of comics with these free Logan Libraries' online video classes.
Lettering Tips for Comics
Pencilling a Comic Book Page
Ramp up your Instagram skills with these free Logan Libraries' online classes.
Learning Instagram
Marketing on Instagram
Check out these collage artists on Instagram – @cocodowley; @happyredfish; @the.daily.spice.