Dinosaur ROAR!
Salt Dough Dinosaur Fossils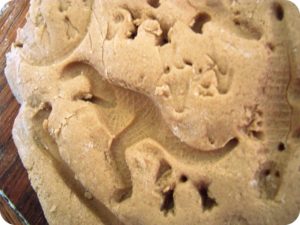 Skill Level:
Easy
*Requires adult supervision in the cooking phase.
Kids of all ages will love making this fun dinosaur craft, then burying each one into the dirt or sand and uncovering it, just like a real paleontologist.
Equipment
2 cups flour
1 cup salt
1/2 cup warm water
Plastic dinosaurs
Plastic dinosaur skeletons
Dig supplies
Box or tray of sand or dirt (If you don't have a sandpit)
Paint brush and spoon for the dig!
Instructions
Mix the flour, salt, and warm water together to make the salt dough.
Make a small ball of dough, then press it flat with the palm of your hand.
Gently press a dinosaur skeleton toy or normal toy into the dough. Footprints work wonderfully!
Gently lift the toy up to reveal the dinosaur impression!
Line up all your "fossils" on a baking sheet and have a parent or guardian bake them at 110 degrees for 1-2 hours until hard.
Now it's time to play!
Bury your fossils in your sandpit or box and excavate just like a real Paleontologist!
Volatile Volcano!
Skill Level:
Intermediate
Who loves chemistry? WE LOVE CHEMISTRY!
Build and decorate a volcano then enjoy the chemical reaction that never fails to entertain!
Equipment
Tray (or in a sink to catch mess)
Recycled drink bottle
Cup
Dough (alternatively you can use up old play doh or just use the bottle so see what happens inside!)

2 cups flour
1 cup salt
1/2 cup warm water
Experiment ingredients
4-6 tablespoons of bi-carb soda
100mL Vinegar
1 tablespoon of Dishwashing liquid
Red or orange food colouring or washable paint for a realistic lava colour!
Instructions
Sit your bottle on your tray or in a sink.
Press your dough around the bottle and shape your volcano.
You can decorate with sticks, rocks and plastic dinosaur toys if you like.
Mix the dishwashing liquid, vinegar and food colouring or paint together and pour carefully into the mouth of the bottle.
Mix the bi-carb soda with some water in the cup and stir to dissolve.
Pour the bi-carb soda solution into the bottle and watch the magic!
Have more experiment ingredients on hand. Once is never enough!
Dino Sock Puppets!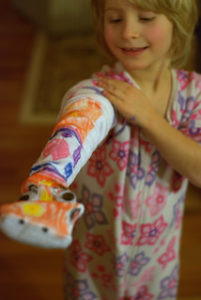 Skill Level:
Easy

to

Intermediate
Equipment
Clean old sock
Felt, fabric or craft scraps
2 googly eyes (optional)
Glue
Scissors
Instructions
Put the sock on your hand or your child's hand and shift the sock around so that your fingers and thumb areable to make a good mouth for your puppet.
Mark then glue the tongue placement.
Mark the eye placement and stick those on.
Decorate your dinosaur any way you want!
What sort of dinosaur will you make?!
Older children can try their hand at sewing on fabric scraps. (Effective for Stegosaurus spines!)
Alternative options are to decorate a white sock with textas. No googly eyes? Glue white and black paper or scrap fabric circles for eyes.
Hot glue is quick drying option but requires a parent or guardian as hot glue is a hazard)
Dinosaur Jokes!
Check out these cool books on dinosaurs!