Father's Day Upcycle Remake Dad's Old Shirt 3 Ways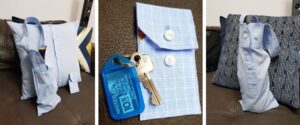 Created by:

By Jenny I and the Logan Central Library Staff

Age Range:

9 + with Adults help

Difficulty Level:

Easy

Approximate Cost:

Free (need access to a sewing machine)
Why spend money when you can make old things into new things?
According to the Cambridge Dictionary, "upcycling" is the activity of making new objects out of old, used things or waste material.  So, this project is not recycling, it is upcycling!
You can use one old button up shirt to create a cushion cover, key purse and bottle bag. Maybe you have a shirt that is ready to be thrown out or you could buy one from a second-hand shop? Ask your relatives, maybe they are ready to donate some old clothes.
The great thing about this craft project is that all the "tricky" sewing has been done for you. The buttonholes, shaping and topstitching are already part of the shirt.
All you need to do is cut the fabric and sew a few straight lines. Let's go.
Materials:
Button up shirt – any type of fabric is fine. Flannelette shirts looks great for this project too. Slippery fabrics are more difficult to sew.
Sewing machine
Cotton (match colour to fabric colour if you want it to be invisible, bright colour cotton will become a feature)
Scissors
Measuring tape or ruler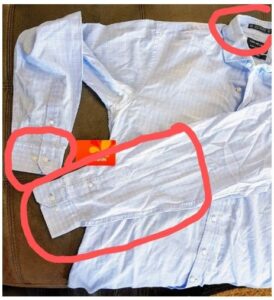 Lay the shirt out flat and look at all the shapes and parts you will need.
One sleeve cuff will become the key purse. The other sleeve, cuff and part of the collar will become the bottle bag. The front and back of the shirt will become the cushion cover.
Key Purse
Carefully cut the sleeve cuff off one shirt sleeve. Stay as close to the join as possible without cutting the cuff.
Fold cuff into shape of a purse but keep flap containing the buttonhole extended.
Straight stitch the two long sides of purse staying as close to the edge as possible.
Finished! Button up the purse and it is ready to use.


Bottle Bag
Lay out remaining shirt sleeve and place a bottle on top to measure desired length of bag.
The top of bottle will be level with the cuff. Allow a few centimetres at the bottom to allow for turnover and stitching.
Turn sleeve inside out. Pin along bottom edge and sew a straight stitch line.
Pin in a straight line along wider part of sleeve as shown. (This will take out extra fabric which may cause the bag to "puff out" too much.)
Sew a straight line running stitches of fabric as seam narrows. Cut away extra fabric from seam allowance to leave approximately 1cm of seam.
Cut the collar apart as shown. The collar band will make a symmetrical handle, but the collar leaf could also be used. Pictures show use of the collar band as the handle. It is optional to remove the label.
Turn sleeve back to right way out. Pin the two ends of the collar band inside the cuff.
Secure the handle with two lines of top stitching. Sew only where the handle needs to be joined and use the existing stitches on cuff as a guide.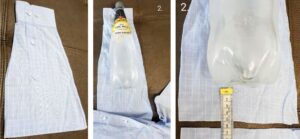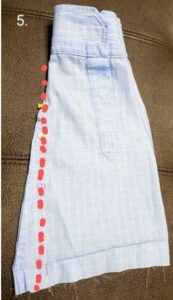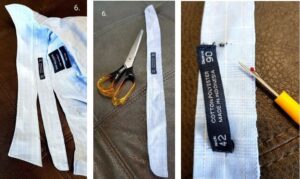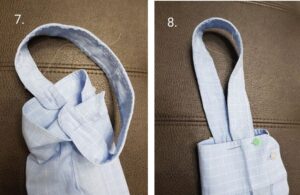 Cushion Cover
Lay out the body of the shirt on a table. Keep the buttons done up.
If you have a cushion, you can use this to measure where to cut and pin your shirt. Otherwise use a piece of paper or cardboard as a template.Use a cushion that is smaller than the body of your shirt and will allow for seam allowances. (If not, popular cushion inserts are sold in 33cm (13inch), 35.5cm (14inch), 38cm (15 inch sizes.)
Standing and looking down on the cushion, cut straight edges around the cushion eyeballing a few centimetres of seam allowance. It does not matter if the seam allowances are not even, however adequate fabric is needed for seams and corners.
Pin around all four edges of the shirt staying a couple of centimetres away from the cushion. Make sure your pinned lines do not run over any buttons. Make slight adjustments as necessary.
Sew straight stitch around all four edges. Cut back seam allowance to approximately 1cm.
Undo buttons. Turn cushion cover through to right side. Place an old cushion inside or a new cushion insert.


Want to explore more sewing ideas?
These library resources are available from Logan Libraries or Logan Libraries eResources.
Books and Tutorials
Free Online Course: Sewing 101
Credit to the following sources: