Who Next Guide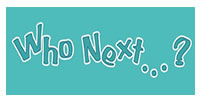 Who Next Guide
When children ask: "Who can I read next?" or "Who writes like my favourite author?", the answers are here in Who Next…? Writers of children's fiction are listed with suggestions of other authors who write in a similar way, together with key book and series titles.
CONTENT DETAILS
Who Next...? an interactive guide to children's authors. Designed to help parents, teachers and librarians encourage children and young people to read more widely, by suggesting authors they might enjoy. Guide children who have already enjoyed stories by one writer to find others who write in a similar way.
For each of the authors listed, other authors who write in a similar style are suggested. By moving from one entry to another, young readers can expand the number of writers they enjoy.
FEATURES
Four age groups: 5-7, 8-11, 12-14 and 14+
Graphic novels, read out loud titles, short stories and titles for dyslexic or struggling readers
Prize-winning children's books
Includes some titles produced by the publisher Barrington Stoke, who publishes books by popular authors for children who have dyslexia, or who are struggling or reluctant readers. These are indicated by the 'eye' symbol beside the title and a complete list of those featured on this site can be found under Features.
Follow the link and enter your library card and pin number when prompted to do so.
Once Who Next...? displays, you are able to browse authors, book awards, early readers, graphic novels, short story collections, useful books, magazines and so on.
If you are looking for a specific author or title, you are able to do a quick search which is located in the top right hand corner.
If you just wish to find out who writes like an author you like, select Browse Authors from the navigational menu. This web page will display an A-Z listing you can browse through.
Search Tips:
Keywords
Use the Keywords search if you know the name of the author or book you would like to find. If you are interested in authors from a particular country, select from the Country of birth drop down box.
Age groups and themes
You can search by the age group(s) an author writes for and/or select the type of stories that interest you from the genres and themes menu.
Additionally, other ways to find information include

using the Quick search to find authors and book titles
clicking on Browse authors to look through an A-Z list of writers
Lists of prize winning authors, Graphic novels, Barrington Stoke titles and much more can be found by clicking on the drop down Features menu
visiting the News and Updates page for information, suggested reads and more!
---