Who Else Writes Like..?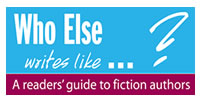 Who Else Writes Like..?
"I've read everything written by my favourite authors, what shall I read next?" Sound familiar? Well this online resource helps answer that dilemma.
CONTENT DETAILS
Who Else Writes Like…? is designed to help anyone who enjoys reading fiction to expand the number of writers they read. It is answers the perennial question "I've read all the books by my favourite authors, who shall I read next?"
Once logged in, you can follow the links to find an author whose books you like. See which other writers are recommended underneath.
Many authors now have their own websites; links to these are included in their entry. If an author has a prize-winning title, there is a link to this and other winners, going back to 1970, where known.
Some titles written by authors included here may be suitable for young adult readers, who are 'crossing-over' from books appropriate for children to tackling adult novels.
Login using your library card number and PIN.
You are not required to create an account to use this resource.
Use the Author name search if you know the name of the author you would like to find
Search for Characters, Environments and Series associated with your favourite authors
If you are interested in authors from a particular country, select from the
Country of birth drop down box
Select the type of books that interest you from the genres and themes menu
Under the 'other' menu there are lots more options to narrow down your search.
You can select as many options from the search panel as you like, but just remember to clear the search if you want to start a new search.
---