The Age Digital Edition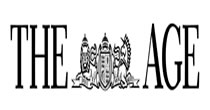 The Age Digital Edition
The Digital Edition of The Age is a full colour replica of the printed edition which is interactive and searchable.
CONTENT DETAILS
View the latest and breaking news from The Age in this full colour digital edition. Read National News from Australia, World News, Business News and Breaking News stories.
The Age is a daily newspaper that has been published in Melbourne, Australia, since 1854.
FEATURES
The Age in full colour, exactly as you would see it printed
6 month archive of back issues
Fully interactive, easily skip to the section you want
Fully zoomable and seamless ability to customise your display
Fully searchable
Easy access Help menu
Download issues or articles and save for later
Translate articles into different languages
Access The Age tipsheet.
Connect with The Age Digital Edition and enter in your library card and PIN numbers when prompted.
Scroll through the paper using the left and right arrows. Scroll over an article to highlight and click to zoom in and read.
The tool bar at the bottom of the page will help you to navigate to a chosen page, article or section.
You can print, download and change the display size and format using the tool bar at the top of the page.
Double click an article to increase or decrease the font, translate, email or print the page.
Search today's issue and back issues using the search bar at the top of the page.
Click the Dates (calendar) icon at the top left of the page to browse archived editions.
---