Small Business Builder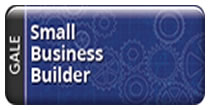 Small Business Builder
Gale Small Business Builder is a step-by-step online planning tool for starting, managing and optimising a business or nonprofit. Use the intuitive dashboard to work through five areas of exploration in order to develop a business plan focused on long-term success.
CONTENT DETAILS
Gale Small Business Builder is a comprehensive step by step planning tool to help you to start, manage and ultimately get the best out your business and plan for long term success.
For people exploring the idea of small business ownership, this resource provides a gradual introduction to entrepreneurial concepts and elements. For seasoned business persons or those progressing through the recommended workflow, the focus shifts toward outcome-based activities to support the management and growth of an operation, such as getting a loan, seeking investors, buying new equipment, and opening new facilities.
Gale Small Business Builder is equipped with popular, proven business planning tools and templates to assist users in creating documents and other deliverables such as a Lean Canvas, Break-Even Analysis, Lean Business Plan, a variety of financial statements, and more.
FEATURES
Entrepreneur Profile This tool helps users explore what they can
bring to the table as an entrepreneur and assess where they stand
in preparing to start a business.
Business Ideation Users can employ tools such as Lean Canvas,
SWOT, Porter's Five Forces, and more to plan the high-level framework in which their business will operate.
Break-Even Analysis Delivers insight to determine when a user's
business will be able to cover expenses and begin to realise a profit.
Business Plans Creates a plan that can be presented to potential
investors and lenders, including Executive Summary, Lean Business
Plan, Full Business Plan, and Strategic Marketing Plan.
Financial Projections A robust analysis of a company's financial future encompassing capital expenditures, sales, equity, and inventory.
Connect with Small Business Builder and enter in your library card number and PIN. Click Get Started.
If this is your first time, click on the purple Get Started button to create your own personalised account. Once you have created a profile you can sign in at any time using your username and password.
From your dashboard, on the left of the screen, select your business type and work through the steps at your own pace to build your personalised portfolio!
You can easily view or edit your portfolio at anytime from your dashboard.
You can also download or email key elements of your "Build Your Foundation" documents directly from your dashboard.
---