Road to IELTS Academic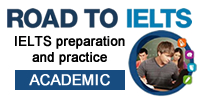 Road to IELTS Academic
Get ready for a great IELTS score! Get access to four skill areas to prepare for university entry. Develop skills necessary to succeed in an IELTS exam.
CONTENT DETAILS
*Please note: Browser requires-
Chrome v51 or later
Firefox v47 or later
Safari v9.0 or later
Edge v40 or later
The Road to IELTS online program assists a person to develop their skills to succeed in the IELTS exam. Over 120 hours of intensive work on vocabulary, reading, writing, listening and speaking is included.
The program simulates the exam itself, enabling candidates to view videos of the Speaking test, and to practise against the clock. The Listening section includes timed social listening activities.
One of the challenges of IELTS preparation is enabling learners to interpret and describe charts and tables. Road to IELTS includes a wealth of these graphics. More than 70 exercises and detailed explanations of each question type in each part of the exam, and tips on how best to tackle the tasks.
With Road to IELTS you get:
Practice zones with e-books to prepare you for the Listening, Reading, Writing and Speaking tests
Sample videos with tips from previous candidates
Teacher tutorials highlighting what to do, and what not to do, in your test
Timed practice tests
A "My Progress" section to help you compare your performance with that of other students worldwide
"My Profile" section to remind you of your test date
FEATURES
Instant feedback on your performance to monitor your personal progress
Access to the correct answers for practice exercises so you can understand your mistakes
Hints and tips to help improve your test performance
Exercises based on real IELTS test tasks to help you develop confidence before your test
To use Road to IELTS Academic with your portable device simply access  from the Library website. The online version is fully compatible with mobile devices- no need for apps or downloads.
Accessing Road to IELTS on your computer
Connect with Road to IELTS Academic
Enter your library card barcode and PIN
You can either create an account and sign in to track your progress or just click Start for no tracking.
Work through the tutorials and practice tests at your own pace.
---