NoveList Plus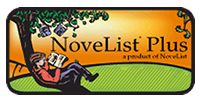 NoveList Plus
The secret to finding great books! Find information about books, including recommendations, reviews, articles, lists and more.
CONTENT DETAILS
NoveList Plus has reading recommendations for both fiction and nonfiction, for all ages. You'll always get the best help for finding the right books.
FEATURES
Read-alike recommendations
Recommendations for titles, authors, and series.
Listen-alike recommendations for audiobooks
Series information
A common challenge for readers -- NoveList Plus has full series information.
A single place for reviews
NoveList includes reviews from professionals (Booklist, Kirkus, Library Journal, Publishers Weekly, School Library Journal), as well as from readers (via Goodreads).
Lists
Top ten, best of, favorites -- hundreds of reading lists that make it really easy to quickly find great books to read.
Award winners, all in one place
NoveList offers one place to find them all -- such as Caldecott Medal, Pulitzer, Man Booker, etc.
---