Clear Pronunciation 2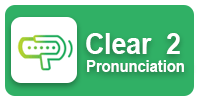 Clear Pronunciation 2
An English learning program where students learn to put the 43 sounds of English together into clear, intelligible speech. This program follows on from Clear Pronunciation 1.
Improving your pronunciation can make a big difference in your life. Do you have a speaking exam, a job interview, or use English at work or school? You'll need to make sure others can understand you. In this program, you will learn to speak clearly and confidently.
FEATURES
The program covers consonant clusters, word stress, sentence stress, connected speech and intonation.
Watch tutorials and work through speaking exercises.
Australian, British and North American pronunciation models.
Many more accents in the "Sounds in action" sections.
Mobile-friendly.
Voice Recorder to record and listen to your own voice to help you learn.
Supported browsers - Chrome, Safari, Firefox, Edge.
Desktop
Laptop
iPad/Tablet
Mobile
To use Clear Pronunciation with your portable device simply access from the Library website. The online version is fully compatible with mobile devices - no need for apps or downloads.
---