World Vital Records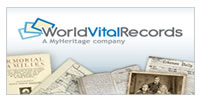 World Vital Records
A genealogy research tool that incorporates rare and common collections from all over the world. Includes over 700 million exclusive family tree profiles from MyHeritage, the world's leading family tree history network.
CONTENT DETAILS
WorldVitalRecords has 4.2 billion sources from 47 countries, with the oldest records dating back to the 16th century. It provides simple access to names in family history record collections worldwide, including:
Over 158 million digitized images, including US and UK Censuses
Over 300 million names from birth, marriage and death records
Over 75 million names from military records
Over 100 million pages of newspapers, 1739 to present
One of world's largest historical map collections with 1.5 million maps
More than 8,000 high school, college and military yearbooks
More than 30 million tombstone photos
FEATURES
WorldVitalRecords gives you the ability to browse the databases by several categories, such as exact or Soundex matches, record type, location, or database title.
You can dig through individual databases covering specialized topics like Revolutionary War records or the 1940 Census.
Offers a wide range of record types, like census records, court records, directory lists, family histories, family trees, immigration records, military records, newspapers and other reference materials.
Access World Vital Records using your Logan City Council library card number and PIN.
For site information, please visit the
Help section
of World Vital Records.
---
Find Your Ancestors Today!