World Book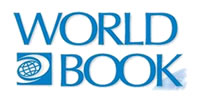 World Book
World Book Online Encyclopaedias offer a huge range of information and resources for students of all ages. Includes resources for preschoolers, older kids and high school students, interactive multimedia resources and games, as well as illustrated eBooks.
CONTENT DETAILS
World Book combines a number of separate educational resources targeted to different audiences.
Early World of Learning - Interactive learning resource for preshoolers and children in early primary school, developed by experts in early childhood education. Great on tablets. [video]
Kids - Fun, easy-to-read articles and engaging multimedia for homework and fun for 8-12 year olds. [video]
Student - Engaging reference tool to meet the research needs of school children up to age 12. [video]
Advanced - Powerful reference tool for advanced research for highschool students and adults. [video]
Timelines - Follow the path of the development of all sorts of topics. [video]
Activity Corner - browse through activities for hobbyists, all levels, all ages. [video]
Discover - Reference resources for students with learning difficulties, as well as adult literacy and English as a second language students. [video]
FEATURES
World book features many interactive ways to provide information to make your experience fun. Games, activities, multimedia, translations and fun ways to browse.
---