TumbleBook Library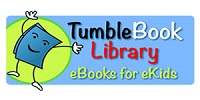 TumbleBook Library
A collection of animated talking books, read-alongs, eBooks, and graphic novels, as well as fun puzzles and games. For use by children alone, with parents, or with teachers in classrooms.
CONTENT DETAILS
TumbleBook Library brings children's literature into the 21st Century. Their collection of online, animated talking picture books is enjoyed by over tens of thousands of schools and public libraries over 100 countries around the world!
Over 1000 titles, including 300 TumbleBooks, 250 Chapter Books, 100 non-fiction books, 16 Graphic Novels.
Story Books are animated, talking picture books. iPad users please note that the iPad-compatible Story Books on the Mobile site have been converted to an mp4 video format and thus the auto/manual feature is not available.
Chapter Books/Read-Alongs are early chapter books for older elementary readers. While there are no animations, the ebooks are narrated. You can also change the colors of the background and text, as well as the font style, size, and line spacing.
Videos are from National Geographic covering various topics. Most videos have been paired with ebooks as a way to introduce a topic.
Puzzles & Games accompany each book and reinforce concepts from the books, allowing for a fun and educational learning experience.
Non-Fiction contains titles in subjects like health, science, astronomy, biology, and nature.
FEATURES
TumbleBooks are created by taking existing picture books, adding animation, sound, music and narration to produce an electronic picture book which you can read, or have read to you.
Narration and text which is highlighted as it's being read.
No checkout restrictions or downloads, books are always available online.
Compatible with mobile devices that have Flash Adobe 8.0+ and an internet connection such as Kindle Fire, Colour Nook & some Android smart phones.
Using TumbleBookLibrary
Access TumbleBook Library here.
For assistance with TumbleBook Library, please view the resource's Help section.
---