OverDrive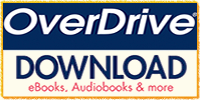 OverDrive
Easily download a massive range of fantastic eBook and eAudio titles. OverDrive is a pleasure to use and you'll find it easy to find your next great read with lots of handy lists and suggestions.
CONTENT DETAILS
OverDrive is designed to help you borrow digital eBooks and audiobooks quickly and easily. You can search for a title, immediately see if it's available, and then download it to your device with just a couple of clicks.
You can also download ebooks, and e-audiobooks to use on your home computer or to transfer to a compatible mobile device.
Wish List -- When you're browsing and come across something you'd like to read later, add it to your wish list - just click on the link next to the title. Now you can browse when you have the time and get titles from your wish list when you're in a hurry!
Rate the Title -- Did you really love that ebook? Rate it! Did you hate the reader on that audiobook? Rate it! There are rating stars next to each Overdrive title. Give your own thumbs up or thumbs down. Previous ratings always show, so you can see how others liked a title.
Recommend Titles -- You can search 'Additional Titles' in our Overdrive catalogue for books that we don't currently own. You can then recommend that we purchase and add it to the collection. You can also get automatically added to the hold list if we do get it!
Try It Out -- You can always read, listen to, or watch samples for Overdrive titles. No more wondering if this title is right for you!
Read Online -- Don't want to download? Read now in your browser and your place will be saved for next time.
Share It -- Share your favorite titles with others via email, Facebook or Twitter. Links are located in the title's full record.
Note: You will need to create an Adobe ID to download ebooks and eAudiobooks onto computers or mobile devices.
Downloading ebooks to a PC or Apple Mac computer:

Adobe Digital Editions will be required. (For this you will need an Adobe ID.)
On first launch of ADE click on Help > Authorize Computer. On the following screen choose Adobe ID from the dropdown menu and enter your Adobe ID and password.
You will now be able to download titles you have checked out directly from the OverDrive site to your computer.

Downloading eAudiobooks to a PC or Apple Mac computer:
Using a portable smart device:

You are required to download OverDrive's Libby App, or the OverDrive App to use with smart phones, tablets etc. (You will need your Adobe ID for the OverDrive app.) Libby is the app now recommended by OverDrive.
Libby:
Overdrive App:
Checkouts -- Up to 10 items can be borrowed at any one time.
Loan Periods -- eBooks have up to 21 days. eAudiobooks can be loaned up to 14 days. You can select the loan period in your settings.
Holds -- You can place up to 10 holds at one time. As holds become available they will automatically be checked out to you by default. If the automated check out feature is turned off you have three days to manually check out your hold. You can cancel holds, and suspend them from 7 days to 90 days.
Renewals -- Yes, if there are no holds on the item. Three days before the title will expire a renew link will appear on your Checkouts page.
Returns -- Early returns with some exceptions:

You cannot return an open PDF eBook before the end of the lending period
You cannot return any titles using OverDrives desktop app for Mac
You can only return downloaded open EPUBs from OverDrive's app for Android, Chromebook, iOS, or Windows 8
Download our OverDrive Tipsheet here.
On a PC or Apple Mac Computer:
Connect with OverDrive.
Enter your Library Card and PIN numbers when prompted.
Click 'Sign In.' Your login credentials are simply your library card and PIN numbers.
Browse the site, or search for titles by clicking on the magnifying glass symbol at the top of the page.
Checkout your chosen title. Click on Borrow if the title is available. If it is not, click on Place a Hold and you will be placed on a waiting list.
Navigate to Loans under My Account. From here you can choose Read Now to read directly from your internet browser, or click on Download to download to your computer.
To download to your computer you will need to have Adobe Digital Editions set up on your machine (see Apps & Downloads above). Once downloaded find the file on your computer and double click to open directly in ADE. Start reading.
On a Mobile Device:
Libby:
Check out Libby Help to get you started with Libby.
OverDrive app:
Watch this video to learn how to download and use the OverDrive mobile app:
For more detailed instructions access the OverDrive Help site.
---