MyCareerMatch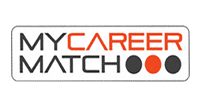 MyCareerMatch
The ultimate career profile resource that matches personality style to careers and helps you write that resume that gets you noticed. Discover your strengths and talents, boost your self awareness of the things you're good at, and use this information to strengthen your resume.
CONTENT DETAILS
MyCareerMatch is the leading provider of online career assessments for schools, universities and TAFEs in Australia. This extremely valuable e-resource will equip you with self knowledge, confidence and the right words to use in your resumes.
MyCareerMatch is easy to use and 15 minutes is all it takes to complete the short online survey and based on their answers members receive a personalised Career Report, Resume Guide and Online Resume Builder.
How it works:
Details: You will be asked to provide your name, membership number and email address.
Survey: It's easy! 15 minutes is all it takes to complete the short survey. Each group consists of four statements and you simply choose ONE that is MOST like you and ONE that is LEAST like you.
Report: Chose either the MyCareerMatch report or the MyResume report. Reports are sent by email immediately on completion.
FEATURES
There are 2 reports to choose from:
An 8 page Career Report that includes:

Information about how to choose a career that's right for you
A personality analysis and summary of your strengths
A list of over 50 jobs that match who you are
Live links to MyFuture website to research each job listed
Work-related strengths and ideal work environment
The qualities you would bring to the job

A 14 page Resume Guide that includes:

A winning resume template
How to target your resume using key words
How to highlight your key accomplishments and achievements
How to read the job ad and write a 'stand out' cover letter
How to use social media to build your career brand online
A resume checklist

Access to build an online resume with MyResume Builder to promote and market yourself in today's web-based job market.
MyCareerMatch
Connect with MyCareerMatch and enter your library card and PIN numbers when prompted to do so.
From the MyCareerMatch landing page, click on Click to Start.
Read through the quick tips and then click Next Step.
Enter your personal details then click Start Survey.
Complete the Profile Questionnaire and when finished choose either the MyCareerMatch or MyResume report. You will then receive an email with your personalised report attached. Please Note: The career profile is attached as a PDF document. You will need Adobe Reader installed to view it.
---