Lynda.com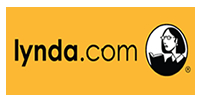 Lynda.com
You'll love Lynda! Lynda.com helps anyone learn business, software, technology and creative skills to achieve personal and professional goals. Follow the link to the website, login with your library card, then create a profile with lynda.com to track your progress.
CONTENT DETAILS
Lynda.com is a leading online learning company that helps anyone learn business, software, technology and creative skills to achieve personal and professional goals.
Access more than 3,000 courses and 136,000 video tutorials for learning the latest commercial software, creative and business skills. Courses cover hundreds of topics including technology, business management, leadership, marketing, multimedia, design and web development.
Latest courses include the entire Adobe creative suite, Microsoft Windows 8, Office 2013, how to create mobile applications with iOS and Android, as well as courses on cloud-based services from Google and Microsoft.
Lynda.com can be used for training as well as for technical support. New courses are added regularly.
Thousands of Courses
A vast and ever-growing course catalog updated almost daily.
24/7 Learning
Available on demand, around the clock, from anywhere.
Mobile Access
Use anywhere, from a tablet or smartphone device.
All Skill Levels
Provides anyone of any skill level with relevant training on thousands of courses and topics.
Keyword Searches
A keyword-searchable resource that offers immediate answers to questions.
Exercise Files
You can practice with project files featured in online courses.
Certificates of Completion
Track your success with course Certificates of Completion.
Practice Environments
A safe sandbox to learn or boost coding skills and build apps.
New Content
25 courses are added each week.
Self-paced Learning
Learn at your own pace with controls for changing video speeds, pausing, and more.
Connect with Lynda.com and enter your library card and PIN numbers when prompted.
On the landing page, either login to your existing account or create a new Lynda.com profile. (Note: You must create a profile in order to use Lynda).
The below video gives you detailed instruction on how to use Lynda.com
How to use the Moble App:
Download the app to your mobile smart device. See Apps section above.
Sign in using your personal profile username and password (Note: You must create a profile on the website first in order to use the Lynda app).
Agree to the terms and conditions.
In the menu, tap on Library and browse the featured categories.
Tap Home to access your playlists or continue watching courses you have watched previously. You will also find Suggested Courses tailored specifically to you.
---
Discover a New Craft or Delve into a New Hobby