Literacy Planet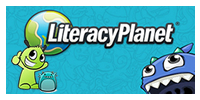 Literacy Planet
Thousands of fun and interactive literacy games for Australian children of all abilities aged 4-15 yrs.
CONTENT DETAILS
LiteracyPlanet is an online world of visually rich interactive activities. Imagination and real world skills combine to make the learning an adventure for students of any age. It appeals to the competitive spirit and drives motivation while fostering a desire to succeed, while students can compete with other students all over the world in LiteracyPlanet's online global community.
LiteracyPlanet has a structured learning journey that takes your child through sequenced, comprehensive, quality literacy content. Your child will receive immediate feedback about their learning at the completion of every exercise.
Within each exercise, the learner will be informed if their response is correct or incorrect and they will be shown correct answers. They will receive a score, virtual credits and a 'trophy' that equates to gold, silver or bronze level mastery.
Concepts covered include pre-reading, reading, comprehension, grammar and punctuation, spelling, phonics and sight words.
FEATURES
1,000s of interactive and engaging exercises.
Covers pre-reading, phonics, sight words, reading, spelling, vocabulary, comprehension, grammar and punctuation.
Developed by Australian educators to support the Australian Curriculum.
Proven to improve learning outcomes.
Full suite of teacher tools to monitor, record progress and adapt for differentiated learning.
LiteracyPlanet app available on iPad and Android tablets.
Fun game-based learning that students love!

Connect with LiteracyPlanet and enter your library card and PIN numbers when prompted.
From the LiteracyPlanet home page, either log in or create an account.
If you are a new user, complete the registration form by entering your child's details.
Make sure you select Logan Libraries from the drop-down menu and enter your library barcode number.
Once you have logged in you have access to quests, the academy, your words, stories, the arcade and your avatar.
---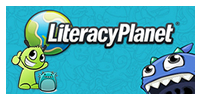 Reading fun with Literacy Planet