Issues In English 2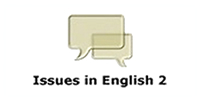 Issues In English 2
Helps adults and those learning English as a second language improve literacy skills. Skills include reading, writing, vocabulary, spelling, dictation, grammar, pronunciation, listening and giving your opinion.
CONTENT DETAILS
Issues in English 2 is an integrated skills program based around eight topical issues of high interest to teen and adult learners (fame, sport, media, technology, wilderness, education, languages and immigration).
Through a huge range of activities, participants will learn a comprehensive set of skills, including Listening, Reading, Writing, Vocabulary, Spelling, Grammar, Pronunciation and Giving Opinions – all of which will help them communicate effectively in the real world!
FEATURES
Uses 32 video clips of conversations presenting an opinion or information.
Based around eight new issues of high interest to adults (Sports, Wilderness, Fame, Media, Technology, Languages, Immigration, Education).
Covers four language levels from Beginner to Advanced.
All language learning activities are based around the content of the video clip.
Learners can record own voice.
Exercises can be printed out as worksheets. Also print test results and answer sheets for teachers.
Tracking Module to record and report on learners activities and progress

Connect with IssuesInEnglish 2 and enter your library card and PIN numbers when prompted.
Select a level to begin using the resource by clicking on the button.
Issues subjects include the following categories:
- Immigration
- Languages
- Media
- Fame
- Technology
- Sport
- Education
---
Issues with English? Look Here for Help!