GridClub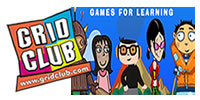 GridClub
Challenging and fun learning games and videos for children, 5 to 12 years old. Games are designed to help improve skills in English, Math, Science, History and plenty more besides.
CONTENT DETAILS
The GridClub's goal is to inspire children to learn. They combine education and entertainment while providing a multi-subject learning adventure for 5 - 12 year olds. There are over 500 games, activities and videos. GridClub has won many awards, including a BAFTA, confirming their educational quality.
GridClub contains resources that cover English, Mathematics, Science, History, Geography, Design & Technology, Art & Design, Music, Personal & Social Education, Physical Education, ICT (Information & Communication Technology), Citizenship and Languages (French, Spanish & EAL).
Subject categories:
Tell Tales (English)
Feel the Force (Science)
Track Back (History)
Makt it up (Design)
Game on (ICT)
Fit for it (Health)
Shape up (Math)
Home & Away (Geography)
Top Draw (Art)
The Groover (Music)
Twin Speaks (Languages)
Bitz (Extras)
FEATURES
Literacy – with fiction and non fiction texts; word and sentence level activities
Numeracy – mental maths, number, fractions, shape, space, measure and handling data
ICT – use of the computer, creating and sharing information, and databases
Creativity – making stories, music, art, designing and experimenting
Environmental education – at local, national and international levels
Citizenship – respect and tolerance, health and lifestyle issues
Humanities – history and geography
Science & Technology – science curriculum, design & technology
Second language skills – French, Spanish, English (EAL)
Some of GridClub's games include:
In Comma Castle asking the English questions right gets you closer to retrieving the diamond, but answer too many wrong and you might find yourself face to face with a fire breathing dragon.
Art Factory gives you the chance to create paintings either in your own style or that of famous artists (from LS Lowry to Jackson Pollock, and Pablo Picasso to Andy Warhol).
In Radius of the Lost Arc users can expect to be snapped up by crocodiles and deluged by red-hot lava if they get their mathematical measurements wrong.
Working On A Market Stall is a simple test of mental arithmetic aimed at children.
GridClub
Connect directly with GridClub using your Library Barcode and PIN Number, or checkout the video below, Games for Learning, to get your interest started!
GridClub's user guide is available here. It outlines how to login, navigate around the site, how to contact GridClub, a teachers zone and parental information.
---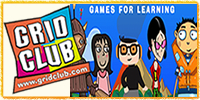 Grid Club - Games for Learning
Flick, Dip and Splash Like Pollock!