Early Experiences in Australasia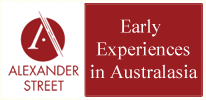 Early Experiences in Australasia
Primary Sources and Personal Narratives 1788-1901. A unique and personal view of events from the arrival of the first settlers through to Australian Federation. Experience first-person accounts including letters, diaries and narratives.
CONTENT DETAILS
Early Experiences in Australasia: Primary Sources and Personal Narratives 1788–1901 provides a unique and personal view of events in the region from the arrival of the first settlers through to Australian Federation at the close of the nineteenth century. Through first-person accounts, including letters and diaries, narratives, and other primary source materials, we are able to hear the voices of the time and understand the experiences of those who took the great challenge in new lands.
From the earliest settlers to convicts and free settlers and those who later answered the call of the Gold Rush, these letters and diaries tell us about life on ships and in settlements in a particularly intimate way.
Explore content by writer, region, audience, personal and historical event, environmental features including fauna and flora, and more. Supporting material such as images, maps, and photographs supplement the first-person narratives and provide additional context.
FEATURES
Thousands of unique documents including letters, diaries, and photographs, covering the early Australasian experience.
Indexing that allows the sources to be browsed and searched in a variety of ways, by date, person, subject, and more.
Sources spanning over 100 years of Australasian history from repositories located across Australia and New Zealand.
CULTURAL SENSITIVITY
Members of Aboriginal, Torres Strait Islander and Maori communities are advised that this catalogue contains names and images of deceased people. All users of the catalogue should also be aware that certain words, terms or descriptions may be culturally sensitive and may be considered inappropriate today, but may have reflected the author's/creator's attitude or that of the period in which they were written.
Connect with Early Experiences in Australasia and enter your library card and PIN number when prompted.
From the home page, you are able to Browse, Search (basic/advanced), create Playlists, find out what's new or access the Help section.
You are able to browse all items/documents, by author, by collection, dates, subjects and places.
You are also able to browse documents types such as biography, brochure/advertisement, cartoon/comic strip, editorial commentary, ephemera, essays, and much more.
For detailed assistance, please view Early Experiences in Australia's Help section or the FAQ section.
---
Global Shopping the Old Fashioned Way!