Busy Projects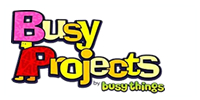 Busy Projects
Encourages children to explore image making and creative writing around popular topics and themes such as Fashion, Space, Fantasy and Sport. Using Busy Projects' simple paint and publishing tools, children can quickly and easily create impressive work, helping to build their creative self-confidence and computer skills.
CONTENT DETAILS
Busy Projects is an area where children create and display topic-based project work. There are 100+ projects across 30+ topics to choose from, ranging from festivals and events to world and weather!
The complexity and variety of topics increase as you progress through the age setups. For families at home this helps to reinforce the different subjects that your child is exploring at school, and is great for producing a piece of homework.
Children will create their project work using Busy Project's simple ICT tools – Busy Publisher and Busy Paint and so will be developing their computing skills as well as developing knowledge on the given topic.
Please note: Busy Projects are only available via desktop/laptop computers at the moment, they cannot be accessed via tablet at this time.
FEATURES
Busy Projects are arranged according to topics and themes.
Within a project, children can combine their own work into huge online collaborations.
A project will be constantly changing and growing as children add to it.
Busy Projects
Connect with Busy Projects and enter your library card and PIN numbers when prompted.
From the landing page, select a topic or theme to see which projects are available, and then click on a project to begin.
---