Britannica Library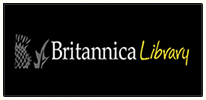 Britannica Library
This award winning resource for kids, teens and adults is one of the most complete and accurate information sources in the world, with over 73,000 articles.
CONTENT DETAILS
Developed specifically for libraries, Britannica Library provides patrons with access to three sites in one, with age appropriate material from the child-friendly collection through to the adult general reference collection (Kids, Teens and Adults). It contains online interactive versions of Encyclopaedia Britannica, aimed at these different audiences.
Britannica Library includes the Complete Encyclopaedia, the Student Encyclopaedia and the Junior Encyclopaedia. There are more than 150,000 articles, links to over 20,000 Internet sites reviewed by Britannica editors, as well as over 750 full text journals and magazines. Additionally, Britannica Library includes Miriam-Webster Dictionary with audio pronunciations, and a World Atlas.
Britannica Library Subjects:
Arts
Biography
Business
Current Affairs
Environment
Health
History
Human
Geography
Information Technology Literature Music Science & Technology
FEATURES
Information in the print version is available online and is enhanced with practical help and extra information, including photos, videos, and sound recordings.
Easy to select reading levels and media types (images, videos, dictionary, websites, ebooks) for each topic.
Britannica Library encompasses a wealth of extra information to take your research beyond the basic encyclopedia article by accessing the "Content Related to this Topic".
Ability to double-click any word in the article, which will bring up a box with a definition and an audio pronunciation of the word.
Connect with Britannica Library and enter your library card and PIN numbers when prompted.
From the landing page, select either Kids, Teens or Adults subsection.
Alternatively, enter a keyword term into either of the search fields of Kids, Teens or Adults.
View the video below about Britannica Library to get you started.
---