Books and Authors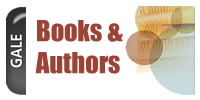 Books and Authors
Looking for a good book, but not sure where to start? Browse titles, authors, and genres, and explore expert picks and award winners.
CONTENT DETAILS
Books & Authors is an online resource designed to help you discover today's popular fiction and non-fiction titles and as well, the classics of yesterday. It also helps answer the age-old question of "What do I read next?" It offers new ways to explore the endless possibilities and combinations of books, authors, genres and topics.
FEATURES
Real recommendations for readers (not machine-generated)
Provides an engaging online experience for you to discover great books
Connect with Books & Authors and enter your library card and PIN number when prompted.
From the home page of this resource you are able to:
- Browse titles, authors and genres
- Select who, what, where and when to search for
- Check out the expert picks
- View  award winners
Furthermore, you can:
- read information about specific "fiction" genres such as fantasy, historical, horror, mystery, romance, science and western.
- read information about specific "non-fiction" genres
such as business, health/medicine, humanities, science, scoial scinces, technology and biographies.
The following videos will get you started with the Book & Authors resource.
When You Don't Know Where to Begin
Searching & Browsing by Author Name
When you know an Author' name
For detailed assistance, please view Books & Authors' Help section.
---
Goldie and Kate - Health Secrets