Australasian Video Online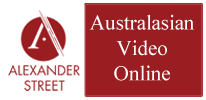 Australasian Video Online
A multidisciplinary collection of videos from Australia, Asia and Pacific, on topics such as indigenous issues, cultural studies, environmental studies, anthropology, and immigration studies. Perfect for tertiary students as content is specifically designed for integration into today's undergraduate curriculum.
CONTENT DETAILS
Australasian Video Online is an online streaming database of documentary and educational videos from many of Australasia's top video publishers. Growing to more than 500 hours of content, this collection brings the region's most-studied and respected films together for the first time ever in one convenient online resource.
Content within Australasian Video Online is curated to include key video published from the mid-20th century to present. Films highlight regional perspectives on anthropology, environmental studies, business, economics, health, media studies, the arts, and other important disciplines.
Sample titles include:
Everyday Brave—First-hand stories of movers and shakers in the Aboriginal community
Nuclear Reaction—New Zealand's move toward a nuclear-free environment
The Game of Our Lives—Rugby's cultural significance in New Zealand
Bom Bali—Circumstances behind the 2002 terrorist bombings in Bali
Kiribati: Here We Are—Local efforts to gain political, economic, and cultural autonomy in Kiribati
FEATURES
HD-quality video that lets you stream films at up to 2.5 mbps
Synchronized scrolling transcripts alongside every title
Region-specific facets lets you easily filter for indigenous content, and more
Shareable playlists—add your favorite films and clips into an online playlist, then easily share the link
Interface features include in-depth searching, filters for locating indigenous content, targeted teaching guides, tools for creating clips and playlists, and much more.
Connect with Australasian Video Online and enter your library card and PIN numbers when prompted.
On the landing page of this resource, you can either search the collection, browse categoires, view publishers and archives, sift through Subject or search by Discipline.
FINDING CONTENT (Search Tips)
Keep searches simple and specific. For example, to find a Washboard band, you only need to enter: washboard.
Try double-checking your spelling before giving up a search.
Word order, case and punctuation are not important in a quick search. For example, Nelson Mandela may be entered: mandela nelson
You can enter more than one term in the quick search box. For instance, if you wish to find items featuring either the piano or harmonica, enter: piano harmonica
When using the Advanced Search interface, try to use the most appropriate term box for your search.
Case and punctuation do not matter in an Advanced Search, but subject and person searches containing multiple words will return better results if entered in the order you would expect to see them. For example, a subject search on civil rights will return better results than rights civil.
After you've entered your terms in the Advanced Search form, the result counter at the top of the page will verify that there are results available for your search.
After you've run your search, use the facet sidebar to refine your results further.
For detailed assistance, please view the Australasian Video Online's Help section.
---